Locally, we have been experiencing a Seller's Market for some time now and housing inventory in our area – calculated by the Northwest MLS (NWMLS) using the number of properties for sale, pended, and sold – is very low. In December, we saw fewer homes for sale in King County than any other point since early 2018, and January did not bring much relief. Comparing current inventory from the same point last year, in King, Pierce, Kitsap, and Snohomish Counties combined, the inventory has dropped over 41%, and for King County alone, the number jumps to 47% (see the chart below). What does that mean for potential buyers? Let's break it down.
The housing markets in Seattle, Tacoma, and the outlying areas have become so hot that open houses are often bringing scores of potential buyers. Historically low interest rates and major job growth are contributing to the demand for both resale and new construction residential real estate. Depending on the pricing and placement of a listing, buyers can expect fierce competition, including bidding wars and escalators, listings only lasting a few days, and requests for pre-offer inspections. According to data from the NWMLS, appreciation is rising rapidly, and areas that have typically been more affordable are now seeing sharp increases in median home prices.
If you are considering selling your house, this is an ideal time to do so. If you are looking to purchase a home, it is important to create a game plan so that your offer stands out from the rest. Mortgage interest rates will inevitably rise, so regardless of the competitive climate, making a move now could save you money in the long run. Not sure where to start? As an experienced, full-service REALTOR®, I can guide you through the process.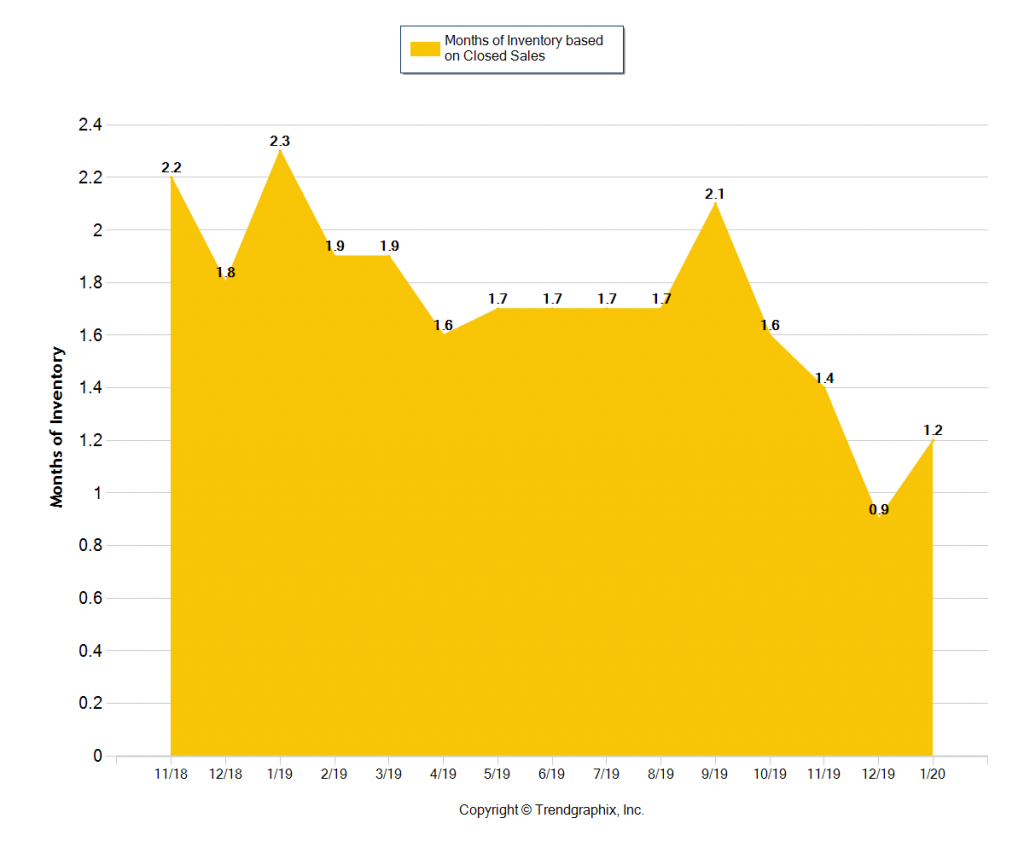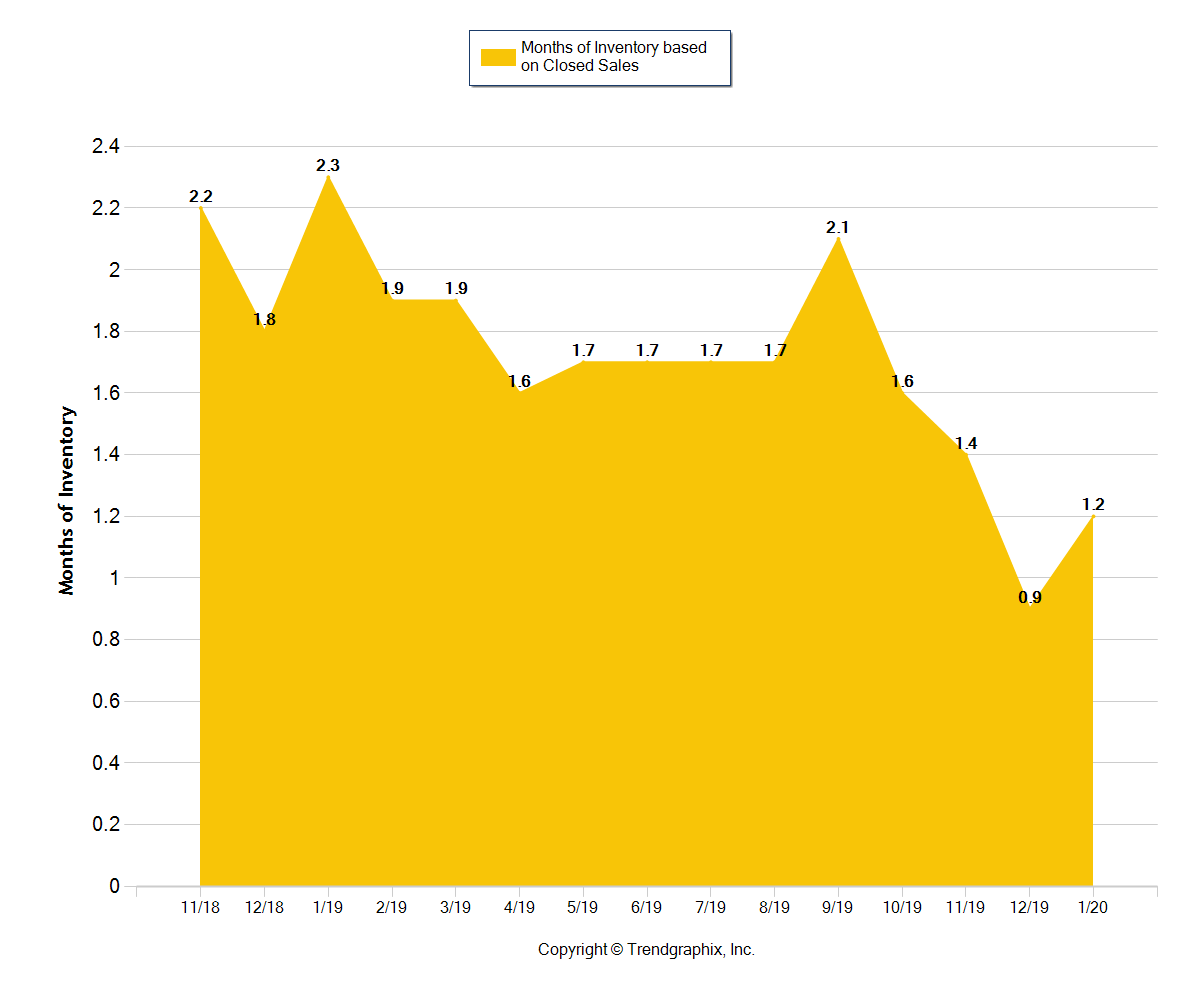 Months of Inventory of Single Family Homes in King County*
* All reports are published February 2020, based on data available at the end of January 2020, except for the today stats. Information and statistics derived from Northwest Multiple Listing Service. Neither the Board or its MLS guarantees or is in any way responsible for its accuracy. Data maintained by the Board or its MLS may not reflect all real estate activity in the market. Report reflects activity by all brokers participated in the MLS.
Now that we have entered into a new year, and an election year at that, talk of recession is on the rise. Using tools as a seasoned real estate broker and my degree in Economics from the University of Washington, as well as by researching current trends and staying abreast of the latest forecasts from economists, I am able to put my clients at ease and assuage their fears about a possible recession affecting the market value of their homes.
The first thing that I would encourage any of my concerned clients to consider is the past real estate market trends when a recession has occurred. The recession of 2008 was unique; because one of the primary causes of that recession was the failure of the sub-prime mortgage market, housing prices and mortgage interest rates were directly affected. However, if you look at my infographic to see how the real estate market has held up during the last five recessions, during three of those periods, housing prices actually appreciated. And, in 1991, although housing prices were affected, the drop was a meager 1.9%. Could there be a recession in 2020? It's possible. In his 2020 forecast, Matthew Gardner, Chief Economist for Windermere Real Estate, said, "[Like many economists, I] spent much of 2019 worried about the specter of a looming recession in 2020. Thankfully, such fears have started to wane (at least for now). Despite some concerning signs, the likelihood that we will enter a recession in 2020 has dropped to about 26%. If we manage to stave off a recession in 2020, the possibility of a slowdown in 2021 is around 74%. That said, I fully expect that any drop in growth will be mild and will not negatively affect the U.S. housing market."
My goal as real estate broker is to educate my clients so that they feel empowered and knowledgeable when it comes to what is perhaps their greatest investment. If you have any questions or concerns, please reach out, and I will provide you with the information you need to be a confident consumer in the ever-changing real estate marketplace.
Posted on January 14, 2020 at 5:42 am
JC Gagnaire
Posted in
Uncategorized